PROJECT: Capacitor Leakage Tester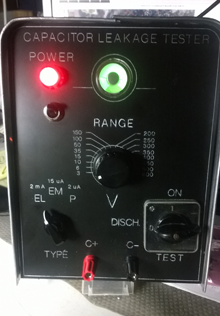 General description:
Capacitor leakage tester 3V... 600V, for old electrolytic, wax or paper capacitor leakage testing. Can be used for electrolytics reforming. Operation principle is similar as e.g. in Heathkit model IT-11.
Function description:
Mains voltage is half-wave rectified in 6AX4 and filtered by C1 and C2. Test voltage is set by resistor divider network and selected by the rotary switch. Tube 12AU7 is cathode-biased so that any leakage current through capacitor under test causes 12AU7 grid to become more positive and plate current to increase and pull the plate voltage down, causing magic eye tube indicator to close. Three different bias voltage levels for different types of caps can be adjusted by potentiometers in 6E5C cathode circuit, now set to 2 mA( electrolytics), 15 uA (miniature electrolytics) and 2 uA (paper) . If the opening of the eye tube is full, no leakage current exceeding the preset value flows.
Hardware:
Transformer:230V / 250-0-250 CT/6.3/5V , 50 Hz
Tube rectifier: 6AX4
DC amplifier: 12AU7
Magic eye: 6E5C
Software: None
Documents:
Manual